Stop guessing or getting lost in the misguided theories and false lessons and find out what it meant in ancient Japan to be considered to be a REAL Ninja......and what that would like for You in Today's World of the 21st Century!
Ninja no Hachimon
Online Ninja Training Course & Coaching Program
Master the Skills, Strategies, & Concepts That make up the
"8-Gates of Authentic Ninja Training"
(Minimum training areas necessary to be considered a Ninja)
Course closing soon!
Have you ever wondered about what makes someone a Ninja? Do you feel frustrated with all the contradictory information being passed around about the art of Ninjutsu?
Are you tired of trying to figure things out on your own? Have you tried to teach yourself but feel lost, directionless, and without the guidance to know what to do, and how?
Did you ever wonder if there is an "official" test, outline, or guide to determine who is, and who is not, a Ninja?" Do you feel destined to learn this martial art, but just don't know where to begin?
Well, here's your chance to...
Learn the Ninja no Hachimon,
"The 8 Gates of Ninja Mastery"

...with me in this
online ninja training program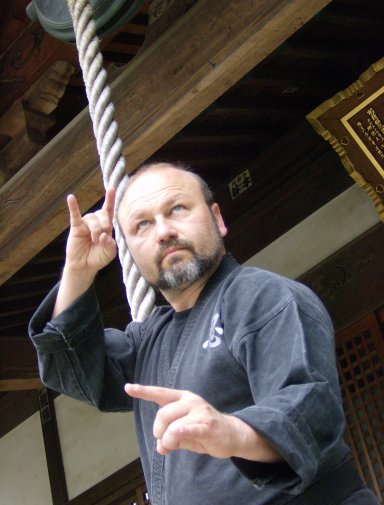 Contrary to what you'll find in the countless movies, books, magazine articles, training videos, and so-called experts out there in the world - each with his or her own "story" about what it means and takes to be a Ninja - history provides a very simple guide that was used in ancient Japan to determine who was, and who was not - Ninja.
Join My 'Inner Circle'--
Hi. I'm Shidoshi Jeffrey Miller. Join me and other serious students as I open up the secrets into one of the historical systems developed to determine who was and who was not practicing authentic ninja training in ancient Japan, and how you can use this system as a guide for your own training and progress in the 21st century...
...regardless of whether you are already training under a teacher, or trying to master this powerful art on your own."

---
Make No Mistake. You cannot find the information in this course, presented this way... Anywhere Else!
I have been studying and training in the art of Ninjutsu since 1980 - when the art was first introduced to the United States. In addition to training with Soke Masaaki Hatsumi and other senior teachers of the art in the United States, Canada, England, and Europe, I've traveled to Japan for personal training with Grandmaster Hatsumi and several of the Master Teachers at least once a year for the past 11 years.
This mastery course includes more than Ten (10) audio & webinar classes - over 20 hours of intense instruction and exploration into the world of REAL Ninja training.
The first session is designed to provide you with an overview of the Ninja no Hachimon. It uncovers little known aspects about the art, and in it I will share secrets with you that will forever change the way you look at, train in, and approach the art of Japan's ancient "shadow warriors."
Then, over the course of more than 10 powerfully informative weeks, you will be given a detailed look at each of the 8 "Gates," and what it takes to master each one.

---
Here's an outline of each of the sessions:
Class 1 - "Entering The World Of The Ninja"
Defining what is, and what is not a ninja

Examining the Japanese kanji character "NIN"

Other names in history used for the ninja

Other systems used to define the art and practice of Ninjutsu throughout history

Outlining the Ninja's "8-Gates"

Q & A


Class 2 - "Harmonizing With Universal Energy"
Defining the concept of "Ki-ai" - aka Martial art shouts

Exploring the Japanese science of koto-dama "spirit sounds"

The Ninja's 4 shouts and the use of each in combat

An alternative view of ki-ai from the Ninja's mikkyo "mind-science" method

A look at the Ninja's kuji, goshim-bo, and Godai no Rin use of mantra

Q & A


Class 3 & 4 - "Ninpo-Taijutsu: The Unarmed Self-Protection System of the Ninja"
3 Sub-arts of the Ninja's unarmed combat method

Kamae: Mind-body-spirit attitudes as positions of safety and much, much, more

Correct Ninja walking for both defense and stealth movement

The Godai ("5 elemental codes): Modes for operating effectively under pressure

Inton-Jutsu: Stealth movement and more

Kukan: Controlling space and the attacker's perceptions

Q & A


Class 5 - "Walking the Sword's Edge: Ninja no Ken"
How the Ninja's sword differs from the Samurai's katana

Make-up of the Ninja-to (aka Shinobi-gatana)

Straight blade or curved? Which is historically correct?

Where the Shadow Warrior's sword fits into the Warrior's training

Progressing toward mastery with the Ninja-to

Q & A


Class 6 - "Ninja no Soojutsu: Mastering the Ninja's Spear-art"
Why the Ninja's spear art is called "Soo-jutsu" and not "YARI-jutsu" (Yari = "spear")

How the spear and sword are connected - at least in the Togakure school of Ninjutsu

Where the spear fits in your training with long, pole-weapons

Types and uses of the Ninja's spear weapon

Ninja tactics with the spear

Q & A


Class 7 - "Making Your Opponent See Stars!"
Myths & realities of the Ninja's shuriken

2 primary types of shuriken

History and development of the "Ninja star"

Different throwing methods and why each was important to the success of the mission

The most overlooked - and most powerful - combat use of the shuriken

Q & A


Class 8 - "Fighting With Fire!"
Defining the Ninja no ka-jutsu (use of fire and explosives)

Exploring the Ninja's exploding smoke bombs

The use and outlook on firearms in the art of Ninjutsu

Uses of fire in combat

Why master the use of fire?

Q & A


Class 9 - "Psychological Warfare and the Art of the Ninja"
Defining the Ninja no Ugei

The Ninja's arts of deception, manipulation, and misdirection

Hensojutsu: The difference between the ninja's arts of "disguise" and "impersonation"

Mastering the Shinobi-warrior's Kyojitsu Tenkan Ho: 'interchanging truth & falsehood'

Shichi ho de: The Ninja's "7 ways of going"

Q & A


Class 10 - "Engaging the World As a Spiritual Warrior"
Defining the Ninja no Kyomon

How subjects like philosophy, science, religion, and meditation protect the Ninja from deceipt & manipulation

Ninpo-Mikkyo: The Ninja's Mind-science

3 Levels of progress and development in the Ninja's art

Sanmitsu: Mastering the secrets of thought, word, and deed for increasing your personal success

Q & A


Bonus Class 1 - "Bringing the Ancient Art of the Shadow Warrior Into the 21st Century"
Using the ninja no hachimon as a guide for modern training

Ancient lessons for the modern warrior

Seeing beyond the museum pieces to attain mastery

Guidance for the solo student trying to teach themselves Ninjutsu

Review of the previous 9 classes

Q & A
You'll learn not only historical facts, but I'll show you how to view each "Gate," or area of mastery, as a model for both your own self-defense training, and developing the purpose, focus, commitment, and values of a true Ninja warrior.



---
This Unique Course Is Scheduled To Begin...
As soon as you enroll!
Some of the best things about this online ninja training program include:
This program is completely self-paced. You can train and study around your own schedule and lifestyle!
You can take as much time on each subject as you need. Take your time or move quickly - your choice.
Each lesson is delivered a week apart so, if you're ready for the next lesson, if not - it's okay. Get to it when YOU'RE ready!
The program includes not only a teaching core, but also...

a homework/accountability core - you'll be responsible for about 5 hours of homework each week. And a...
coaching core. That means that you get unlimited email access to me to help you with any of these lessons for not just the length of this program - but for a full 6 months!
Here's How It Works...
Each of your classes will consist of a one to two-hour mp3 audio class, and includes class materials that will be sent to you via email with each lesson. All you have to do is download your class materials and start training!
The program consists of 3 parts:
A Teaching Module: Where I teach on the details and subjects included in the Ninja no Hachimon. This is augmented by teaching materials such as video clips, training workbooks, etc.
A Coaching Module: Where you will have the chance to ask any questions that you might have about, not only the subjects in the teaching core, but also in your own personal training, and thereby tailor the program to your own training and development needs. And...
A Homework/Accountability Module: You will receive weekly assignments that I will hold you accountable to and for completing. Assignments are related to the previous session and are sent to you via email along with your teaching core audio.
So, enrolling in this course means that you get essentially 2 programs for the price of one!
You get over 10 recordings of real training sessions with me where you will learn about the real art and practice of ninjutsu training - and exactly what you need to learn to succeed and advance through these 8 areas of study and mastery. AND...
In addition to the class mp3s, you will be receiving course outlines, worksheets, videos, and extra bonuses to make sure that you have everything you need to succeed in this course, and in your own training!



---
This Is YOUR Chance...
During this powerful course, you will literally take your training to the next level!
You will learn more in these 10 weeks, than many students have learned in YEARS of training!
Not only will you learn what it means to be a ninja, but you will be able to put these powerful lessons to work in your own life - from the very first class!
Remember, you will not only be learning these materials, but you will have email access to me, so that you can ask any questions you may have about the things that are holding you back in this training!
During this special course, you will be receiving, not only study materials and resources that, up to now, have been reserved only for my in-house students - you will be receiving brand new materials and lessons that have been designed and created especially for THIS course!
And, considering that my normal fee for training with me personally in special training sessions like this, is $150 an hour - the cost of this online coaching program is ridiculously low!
---
Let's review...
When you enroll in this special, Closed-Door, training program, and become a member of my "Inner Circle" of serious students, you get:
Over 10 Online Seminar recordings with me value $970
The opportunity to get answers to your most pressing questions regarding your own training value "priceless!"
Workbook and course materials for each "Gate" value $470
6 months of unlimited, personalized email coaching from a licensed Shidoshi - Master Teacher - of the Ninja's arts value $2,700
Certificate of Training upon completion of the program
Bonus training videos and more value $297.
Direct, live feedback from a real teacher. No more trying to figure it out on your own!
That's a total value of over $4,437!
You can see how I'd be completely reasonable in commanding between $497 and $997 for this powerful program. And, I plan to do just that very soon.
But, as a limited-time, introductory offer to this powerful course - one that I'm limiting to the first 20 17 students who grab this chance to get real, historically verifiable Ninja training...
The cost of this authentic Ninja training course, including all study materials, certificate of training, and all of the mp3 recordings with Shidoshi Miller - one of the longest-training master-teachers in the Western-world - is normally just $397. But, I really want you to have this training, if you're serious about becoming a true Ninja - in every sense of the word.
So, I've decided to make this available for a short time for for an additional $100 off the regular price!
That means that you can get everything in this course, for just...
$297!

---
If you've ever trained in Japan, you know that 10 classes in this art would cost you over $300 - and there are no "course materials," or recordings of the class that you will be able to download and keep reminding you of what you learned! These recordings alone are worth FIVE TIMES the price of this course!
To grab one of the limited spots remaining in this program, and take advantage of this extremely low cost before it goes up to the full price, I'll be charging very shortly...
...simply click on the PayPal button below. Once payment is complete, you will be taken to a confirmation page where you will be able to complete your registration and list up to three of your most important questions about training in the art of Ninjutsu, the Ninja no Hachimon, "The 8-Gates of the Ninja," or anything else that will help your training.
And, as a bonus, the answers to your questions will be included in the program via email AT NO ADDITIONAL COST so that you get EXACTLY what YOU need to master this art!
I tailored each of these lesson and presentations to make sure that I answered as many of the most common questions as possible. But, with the extra email coaching, this is your chance to tailor this one-of-a-kind program to exactly what you need to make your training as productive and beneficial as possible.
Lock in Your Place Now...
Simply click on the PayPal button that best fits your budget to be taken to the secure payment page. Once payment is complete, you will be taken to a confirmation page to complete your registration process.


Single Payment of $297.



Limited-Time Multi-Pay Option
This week ONLY!

4 Easy Payments of $79./Month



This is a special online training program and may be removed at any time. Most students training in the art of the Ninja today are ignorant to the powerful history of their art. Unfortunately for them, they are missing out on lessons and secrets that are hidden in this knowledge - secrets that this course will uncover for you.
Of course, the choice is yours as to how much you master the art of ninjutsu. This course provides not only a solid foundation from which to build your personal mastery, but it also approaches the subject from a valid, proven, historical perspective.
That's it. Plain and simple.
No fluff. No hype. Just knowledge and secrets about what a person, just like you, was required to master in ancient Japan - and Today - if he or she was to be considered a true Ninja.
If you really want to master "true budo," and develop the perspective, commitment, purpose, and skills of a master warrior, then you have to make sure that you grab this unique training opportunity with a trained master teacher of the authentic Ninja arts!

Reserve Your Place Now!


Single Payment of $297.
Get Immediate Access now!



Limited-Time Multi-Pay Option
This week ONLY!

4 Easy Payments of $97./Month