Hi ""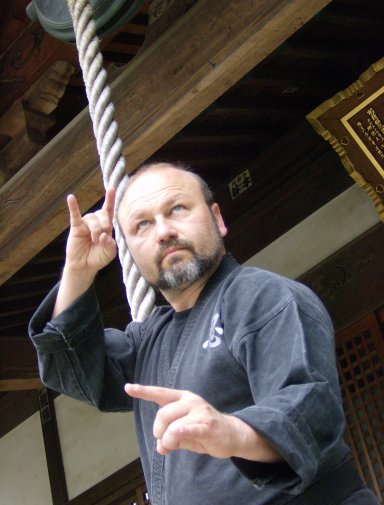 Shidoshi Miller with a last minute reminder that the 10 week sword course begins tonight at 8pm (Eastern time - US)!
That means that, if you're going to get in on this training - it's now "crunch-time!"
There are still a few spaces remaining, but you must take action now if you're going to grab one for yourself!
Here's the link: http://tinyurl.com/25h4ffk
ALSO...
Several students had sent in some very good questions about this program. Here are the most common questions, and my answers:
1) What is the online weapons training program? This is a brand new online coaching and ninjutsu training program, designed for serious students who are ready to take their training to the next level. It consists of a rotating schedule of 10-week blocks of instruction on each of a list of weapons, beginning with the Japanese katana.
2) If I can't take the course this time around, can I do it later? Yes... and, No. Because the overall program offers coaching and online training on many different weapons of the Samurai and Ninja of ancient Japan, there will be literally months - perhaps longer than a whole year - between when I cover one weapon, and when it comes back up on the training schedule. In fact, since each program will be recorded and offered as a stand-alone product, I may NEVER offer these weapons in this live format ever again!
3) What if I can't make it to all of the live classes? One of the great things about this course is that each class will be recorded and sent out to each student after the class has ended. This way, it's like getting 2 products in 1: The live program, AND the recordings that I will be selling later on. So, even if you have to miss a class or two, you won't really be missing anything! You will still get all of the great training that was covered when you get the recordings.
4) I don't have any training with the sword, can I still register for this course? Of course! In fact, this program is designed so that you can personalize it to exactly what you need. I will be covering a set curriculum of tradition sword study, but each student will create a totally unique experience for themselves BECAUSE of their level of training and experience. So, it doesn't matter if you are a complete beginner, if you have had some training with the katana, or if you've been training with this weapon for years. I guarantee that you will learn something new that will allow you to take your training to the next level, and beyond!
Go here to register now: http://tinyurl.com/25h4ffk
5) What kinds of things will you be covering during this course? Excellent question! I will be covering everything from kamae, drawing, and cutting with the sword, to how to properly tie the belt and wear the weapon, to how to control a fight situation against an opponent armed with another sword, a staff, or even a spear or naginata! There is truly something for everyone's skill level and experience. AND, because the course is live, you will be able to ask me any questions related to your training. This single thing, in an of itself, will allow you to MAKE SURE that you will be getting exactly what YOU need from this course!
6) How much is the program? The total for the course if you pay in full for the 10 weeks is $297. US This includes 10 1.5hr online, group coaching sessions. 10 training videos. Bonus training videos that I will be creating throughout the course to illustrate concepts brought up by your questions and the questions of others. A student training manual. And, unlimited email coaching during course of the 10-week program - you will access to me to ask any and all questions that you have about your training and progress! This program is has a total value of over $5,000. But, I really want you to get this training. So, I have lowered the course fee for the entire 10 weeks, including all training materials and bonuses... to only $297.
7) What if I can't afford the total cost of the program right now? I understand that times are tough. But, I don't want money to be the main reason why you can't train. So, to make sure that as many people can train in the program as possible, and so that I can support my family... there is an option at the bottom of the registration page for a multi-pay option.
Here's the link again: http://tinyurl.com/25h4ffk
This is truly a one-of-a-kind program. You and I both know that going to the occasional seminar can be frustrating because we can forget what the lesson was - even if we take notes! And, books and videos can be even worse in that we don't have the support and direct feedback of the teacher to help guide us through the training on a regular basis. And that's what this program will do for you.
So, if you're ready to lay (or improve) a solid foundation for you weapons training - if you're ready to take your sword training to (at least) the next level - here's the link to make it happen: http://tinyurl.com/25h4ffk
Remember... class starts at 8pm (Eastern) tonight! (Check your time zone to make sure that you are on the call at the right time!)
I look forward to training with you very soon!
Shidoshi Miller