Enroll Now for this Special
Online Training Course on
Seeing the World Using the...
Bushi no Me
"The Eyes of the Warrior"
A Self-Paced Online
Distance Learning Course from
Bujinkan Ninjutsu Master-Teacher
& WCI founder, Jeffrey M. Miller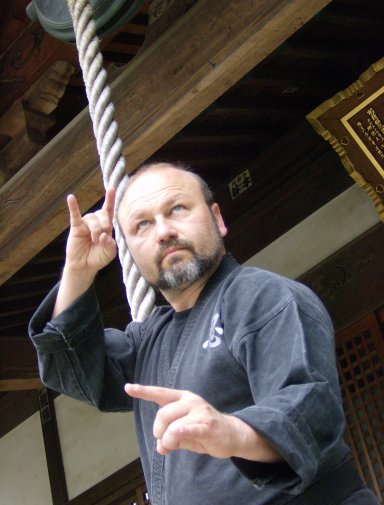 Let's begin by asking you a few questions... Okay?
Do you possess the eyes of a true warrior?
Do you know what they are?
How does the warrior "see" their world?
How can you develop this unique and special set of powers?
What could you do with your new-found abilities?
And...
Who else would benefit as a result of your having learned and attained one of the most powerful, secret, and "invisible" skills leading to true Mastery?

Well, if you're serious about learning the true ways of the Warrior, especially of Japan's ancient mystic-warriors known by most as "Ninja," then you won't want to miss this new program by internationally-recognized self-defense expert and Bujinkan master-teacher, Jeffrey M. Miller.
This course is the recording of a very special, closed-door, online teleseminar/ webinar (web-based seminar) given to a few of Shidoshi Miller's closest online students, and focuses on one of the most powerful ways that a warrior is different from the average individual man or woman. This includes most fighters, soldiers, and martial artists.
And, after you complete this program, you will never look at yourself, your world, or the ways of the warrior the same way...
...Ever Again!
During this advanced training program, Shidoshi Miller, one of the longest training students & teachers in Bujinkan Ninjutsu here in the West, will shed light on, and lead you through a little-known subject called the Bushi no Me - the "Eyes of the Warrior."
Shidoshi Miller will not only explain "how" a true warrior looks at his or her world, but he will also give you some very practical exercises, drills, and lessons for developing the same skills. You will learn not only "what" the Bushi no Me is, but...
You will also be taken through the...

5 Levels of "Sight-Mastery" Possessed By a True Master Warrior.
<
In this unique, and one-of-a-kind course...
...you will learn everything from how a warrior uses his physical eyes - his actual sense organs - all the way to his connection with what could only be called, "Universal Law" or Shin-Gan "Divine Sight".
In fact, the highest level of Mastery transcends even the level of the Tatsujin, something that the Shidoshi speaks on, and to, quite often.
NOTE... This course is NOT for everyone!
If you are completely against the idea of meditation, or confuse psychology and spiritual studies as things to be avoided...
Don't enroll in this course!
However, if you want to learn...
How a true Master Warrior looks at his or her world
How they see and process the information and sensory input from the world around them
How and why they make the decisions that they do...
...and More!
Then this is a training opportunity that you won't want to miss!
The cost of this special limited course is just $49 US. And...
You get immediate access to the training course page as soon as you enroll!
Enroll Now!
With your one-time payment of $49 US
For this one-of-a-kind program with Bujinkan master-teacher, Shidoshi Jeffrey Miller.