Your Registration for
Fall Ninjutsu Camp 2023
is Complete!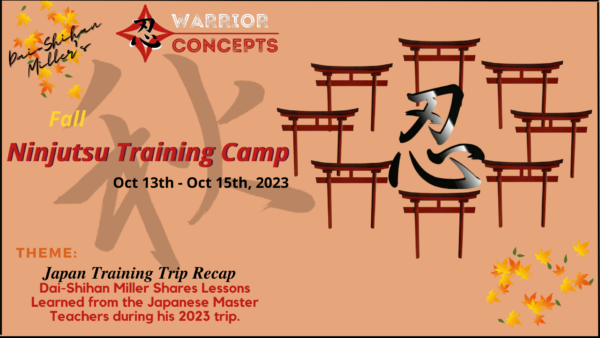 Thank you for registering for Dai-Shihan Miller's annual Fall Ninjutsu Training Camp (Oct. 13-15th, 2023). Your place has been reserved (and being held if you made a deposit). Please note that there is a strict no-refund policy if your reservation is canceled within 48 hours of the camp start. If you must cancel within this period through no fault of your own (i.e family emergency, etc.), you will receive a credit to attend a future training event.
Your registration confirmation number will be sent to you from PayPal (or provided on a confirmation page). Keep this number for your records in case something happens in the world of cyberspace as proof of your registration and payment.
If you reserved with a minimum deposit, your balance is due not later than registration check-in on your first day of training, unless other prior arrangements have been made with Dai-Shihan Miller.
If paying a balance...
Make checks and Money Orders out to WCI or Warrior Concepts Int'l. (or simply W.C.I.)
Otherwise... you're all set and we'll see you at Camp!
---
What To Bring...
To get the most out of this year's training experience, you should plan to bring the following training gear with you:
Black training uniform or equivalent
Black training T-shirt (or other approved for training)
Soft-Sole, Indoor Japanese Tabi or Black Athletic Socks
Notebook
Of course, you may also want to bring additional training tools such as a Rokushaku-bo Long staff, Rope mock-up of the Kusari-fundo (weighted-chain weapon), etc.
No video recording devices permitted! Audio recordings made for your own use are allowed, but a copy of all recordings must be provided to Dai-Shihan Miller at the end of the Camp for his exclusive use.
If you have any questions or need assistance arranging for a place to stay (hotel, etc.), please call the academy at (570) 884-1118.
For directions to the academy, the address for a GPS search is:
2346 North Susquehanna Trail
Selinsgrove, Pa. 17870
We look forward to training with you very soon!
Ninpo-Ikkan!

WCI Staff