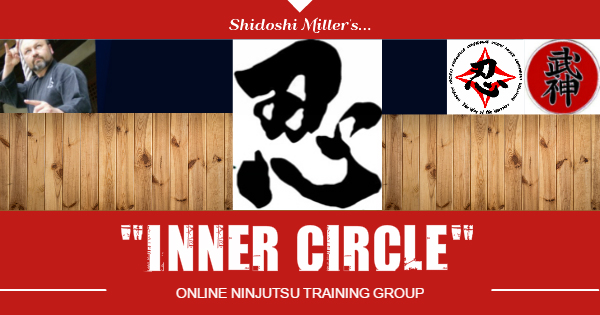 Inner Circle Platinum
Online Ninjutsu Training Program

---
STEP 2...
If you found this page without completing Step 1 of the registration process, click here
---
Your registration is almost complete. Please fill in the following form to finalize your registration and enrollment into the Program. After you complete this step, you will receive your acceptance notification and startup information within 24 hours (usually much sooner).
Congratulations on your decision to make this very personal investment in yourself, and to become a significant part of this ancient, warrior legacy that has been passed down from master to student for over 900 years!
We're sure you're excited and ready to jump right into training so...
Let's get started!


---
Enter your details in the form below to complete your "Inner Circle" Membership
IMPORTANT NOTE:
As one of Shidoshi Miller's "Inner Circle" students, you are responsible for carrying yourself in a professional and dignified manner at all times. This includes at home, on the job, and in public.
You are now not only a student, but a representative of how the world will view you, your fellow students, the art of Ninjutsu, Grandmaster Hatsumi, the greater Bujinkan Dojo, and Warrior Concepts International.
Please take care to be mindful of this at all times and in all dealings with all people.
And remember to live the dojo aspiration of:
"Master Your Self - Master Your Life!"
---
WARNING!
This is a restricted page. If you are not a paying "Inner-Circle" client of Shidoshi Jeffrey Miller and WCI, please exit this page now by clicking here.
Attempting to access this list or obtain coaching fraudulently, will result in not only removal from this list, but your email address will be blocked as well.
We recorded your IP address when you landed on this page.