Online Weapons Training Program
Master The Katana!
Sword of the Samurai & Ninja
Warriors of Ancient Japan
10 week Online Video and Audio-based
Ninjutsu Training Course
w/ WCI Founder & Bujinkan Master-Teacher
Shidoshi Jeffrey M. Miller

No other weapon in the history of warfare has developed the level of mystery, glamor, or attention than the Katana - the Sword of the Samurai and Ninja of ancient Japan!
Are you looking for training that will allow you to Master this powerful weapon?
Well, now you can. And you can learn from the comfort of your own home!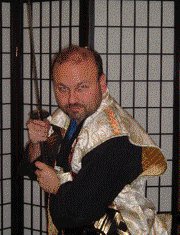 Hi, Shidoshi Jeffrey Miller here, with a personal invitation to join me and other serious, like-minded, students as we explore the Path to Mastery with the Japanese katana - more commonly known as the Samurai Sword.
Regardless of whether you already have experience with the Katana, or you're just getting started, this new online weapons training program will give you what you need to take your Samurai sword training to the next level - and beyond! Guaranteed.


But, before I discuss the program, let me ask you a few questions. Okay?
What is it that attracts you to the sword?
Can you see yourself wielding this powerful, ancient weapon with all of the skill, agility, and expertise of a true warrior?
For centuries, the sword has been the symbol of strength, power, command - the symbol of the True Warrior. It symbolizes everything from Knighthood and the status of the "Bushi," to the attainment of success, and the passage to manhood.
How would mastering the Samurai sword change your martial arts and self defense training for the better?
Have you thought about that?
What would you be able to do with these new skills?
Who else would benefit?
And, what would it feel like to have this ability - to know that you were no longer just a "fan" of the Japanese Samurai sword, but an accomplished swordsman in your own right?!
Can you imagine the confidence, power, and sense of personal control that you would feel, knowing that you "owned" this skill?
What would others say when they saw you effortlessly cutting through targets, and demonstrating these skills?
How much differently would others speak to, and relate to you - knowing that you were a skilled Master of the Japanese Sword?
Sound hokey?
Maybe.
But, think about it.
You are not the only one who thinks this way about the sword. Not by a long shot!
This admiration of the Samurai sword, its ability to cut through flesh-and-bone like a hot knife through butter, and what it represents to each of us, on a deep, subconscious level, is practically hardwired into us as human beings!
Even people who have absolutely no interest in the martial arts, stare in awe at this weapon in museums, in demonstrations, and especially...
...in the hands of a skilled Master Warrior who knows how to use it correctly!
And, I have been asked time and again, if I would consider putting together a Master Sword Training course - a program focusing just on the Samurai sowrd. Many of the students who come to me for help in learning the skills of the Samurai and Ninja are scattered around the world, and they have little to no access to a certified master-teacher.
They have no one close enough - no qualified teacher near them from whom they can learn the secrets, lessons, strategies, and tactics for using this amazing weapon. And, they want to train in the worst way.
Can you relate to that?
Do you know what they're going through?
I know I did, many years ago, when I first began training in the Warrior arts of Japan. Because, when I began training, I was in the same place.
No qualified or legitimate teacher nearby. In fact...
No school or teacher within hundreds of miles from where I lived!
So, I spent literally $100,000.00, thousands of hours, and over 30 years of my life traveling to train with those who had the secrets that I wanted, to be able to attain the level of Mastery that I have.
And, up until now, only those students who lived locally, or those who were able and willing to travel to be at one of my training seminars or yearly, Spring and Fall Ninja Camps, were able to learn these secrets from me.
But now, with the power and technology of the internet, you can too!


This
10 week course
is part of my online weapons training and coaching program. You can register for just this module of training and Master the Samurai sword, or enroll as a full coaching student and
learn all of the other weapons
that will be taught during this ongoing Master's Level series.
Weapons like:
Shinobi-gatana (Ninja-to) - The Ninja's sword
Rokushaku-bo - 6 ft. (long) Staff
Tanto - Single-edged Knife
Hanbo - 3 ft "Half-staff" (Cane or walking stick)
Shuriken - 'Throwing Star'
Shuko - 'Hand Claws'
Yari - Spear
Kusari-fundo - 'Weighted-chain' weapon
and MORE!
---
Note:
If you are already one of my
"Inner Circle," Online Platinum Coaching Program
students, do not register for this program, as you will already receive it at no additional charge - as a part of your
Platinum Training Benefits Package.
---
This program is open for enrollment right now
But ONLY FOR A LIMITED TIME
. And, the best part is that this program is 100% digitally delivered. That means that all of your classes were pre-recorded at a live event, digitized, and made available as a self-paced, online training program!
Here's What You Get, as a part of this program:
10 Training video lessons ($249.50 value)
10 2 hour tele-class recordings where I go into the video lessons in extreme detail ($270.00 value)
Bonus Custom Video Lessons (valued at $300.00)
Additional Lesson Videos created as a result of questions asked during the live classes ($97 value)
Student Training Manual ($19.95 value)
Unlimited email coaching ($350.00 value)
Video-based Skill Review and Training Certificate (which certifies your training with this weapon ($35)

---

Total Value for this course = $1,321.45
And, for those of you who have trained with me before, you know that I give as much value as I can in every program that I teach.
Over the course of your program you will learn:
Combat posturing with the Samurai sword
9 Directional cutting
Proper form, respect, and etiquette with the Katana
How to properly care for your weapon
Drawing the weapon for combat (not show-and-tell!)
Why most sword training programs are no longer authentic combat systems
Training drills for increased proficiency with your Samurai sword
Secret details that made each sword school different in the use of the Samurai sword
How to wear and carry the sword - both in and out of your belt
Sword defense strategies, tactics, and techniques
Authentic sword kata from historical schools of sword combat
How to properly tie your obi, martial arts belt, for sword use
Differences between the way the Samurai used his sword, and the way a true Ninja would!
...and MORE!
But you're not going to pay anywhere close to that for this course.
I really want you to get this training. But...
Only if you're serious.
And, to make it as easy as affordable as possible, I'm making a special offer this week only.
The normal price of this course is just $297
That's over 94% off the total value for this course.
But... if you enroll in this program before the end of the week, I'm talking an additional 50% off the already discounted price.
That means that, for this week only, this course is just
$147
...for the full training course, INCLUDING all of the bonuses I'm throwing in.
I think you understand that I can't give this kind of training away at this price for very long without hurting my own family in the process. And... quite frankly...
...I won't be.
So, when this week is over, so is this special offer.
That's it.
I'm doing this because, like I said, I want to make it as available as possible to my serious students but, as I said, I'm doing this as a special tuition rate for this week only.
But, when you also consider the fact that you will get:
ALL of the live class video training sessions, plus...
ALL of the mp3 tele-class recordings, plus...
ALL of the webinar materials, plus...
ALL of the course videos, books, and bonus materials and lessons that were created as "extras"...
You'll see that you are literally getting 2 courses in ONE! And... for less than $15 per class!
And, that's if I keep the cost at $297  $147!


Registering is Easy!
Simply click on the PayPal Button below and, after completing your payment, you will be directed to a page to complete the registration process.

This may not be the right time for you to take this course. And that's fine. It will be here when you are ready - but not in this exact form, and not at this price.
This will be THE ONLY time that I'm offering this course at this price, this way, and for you to get the free email coaching with me as a part of your program.
But, if you are ready right now to get this powerful training, go ahead and click on the PayPal Button below to lock in your place before the price goes back up to $297.
If you miss the deadline, PayPal will show the regular price instead of the discounted one.
Ready to increase your level of Mastery with the Katana - the Japanese Samurai Sword? Click on the PayPal Button right now!


Limited Time Special
Multi-Pay Option
5 Bi-weekly Payments of $37 each.
1 pmt now and then another pmt due every 2 weeks thereafter
for a total of 5 payments