Hi ""

Here's your latest edition of the Warrior Concepts Self-Defense Newsletter.

From the Desk of
Jeffrey M. Miller
April 2nd, 2006

This issue's feature articles are...

The Secret to Being Safe - Anytime...Anywhere

Join the WCI Forums!

Spring Ninja Training Camp

As well as Training Tips, Insights, and More



If you received this email from a friend and would like to subscribe, just click on this link. If the link doesn't work with your configuaration, simply cut and paste it into your browser to be taken to the subscription page: http://www.warrior-concepts-online.com/newsletter.html

As always, there's lots to talk about, so...

Let's get started...
---
Get Your Official WCI Training T-Shirt!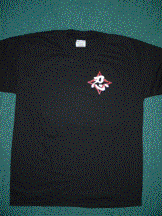 Two great styles to choose from!

STYLE #1 - The Official Mastery-Leadership Student Training T-shirt!

Available in Sizes Youth Medium thru Adult XL (sorry - currently out of 2X and above)

Black only (of course!)



These shirts sport the official WCI Shuriken and Kanji logo on the front and the powerful Ninja Wizard and the phrase "Feel the Power!" on the back.
These training T's are great for wear under your Gi jacket during practice, or for wear out with your friends. Available only through WCI, these are the official shirts worn by students of the Hombu (Headquarters Academy).
The cost is only $20 plus $5 shipping and handling.
Use this button to or.der your Feel The Power! WCI Training T-shirt now.
DON'T FORGET to select the correct size from the drop down menu
If you're ordering more than one style of shirt, you may use the View Cart button below...
And...
Style #2 - "I'm a Future Black Belt!" Training T-shirt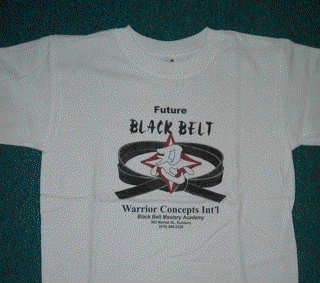 Also available in sizes Youth Medium through Adult XL
White T-shirt with red and black printing on the full front as shown.
Makes a great training T-shirt under a white martial arts uniform or for wear outdoors to show the world your intention to accomplish your goal!
Only $15 + $5 shipping and handling
Order Yours Today!
Future Black Belt
---
The Secret to Being Safe - Anytime...Anywhere

by Shidoshi Jeffrey Miller

As pointed out in my f.ree 7-part eCourse called the "Foundations of Self-Defense Mastery", the primary key to being safe - to living a life where you are free to do as you choose without the threat of harm or injury...

...and being able to handle what danger does come your way through evasion, dissuasion, or actual physical deterance...

...is AWARENESS.

To most people that I talk to, awareness simply means to "pay attention."

But, "to pay attention" to WHAT?

Again, the simple answer is to pay attention "to what's going on around me."

And, while this is a good beginning, I have to ask...
What are you looking for?

What are the clues and cues that signal a certain type of attack?

What attacks should you be more on the alert for?

And...

What do you have to know - to be aware of - about YOURSELF to be successful in a defensive situation?
It's true that the secret to effective self-protection begins with an increase in awareness, but let's not forget that...
...we have to know what we are to be aware of before we can direct our consiousness in that direction.
If we aren't aware that something exists, it's highly unlikely that we will ever be able to use it as a tool until we DO become aware of it.
Since the topic of awareness, as-well-as...
What it is

How to use it

The different types of awareness, and...

Suggestions for training to improve it
...are incredibly important to an overall self-defense strategy...
I am inviting you to an intensive training opportunity, right here on the internet.
Join me for a fre.e Webinar this month where we'll be discussing the importance of AWARENESS in determining your success or failure in a self-defense situation.
Here's the information:
"Awareness as the Key to Effective Self-Protection:
What to be Aware of"
With Two Opportunities to attend:
April 6th at 8:30pm EST & April 7th at 10pm EST
To register for this powerful, fr.ee, training opportunity, use the link below to be taken to the registration form:
http://www.warrior-concepts-online.com/ninja-training-online-registration.html
Enroll now - Before you forget again!
---
Introducing the Newest Training Opportunity...
WCI Webinars with Shidoshi Miller Beginning in April, we will be hosting one or two FR.EE webinars per month for members-only. That means that you'll be able to train directly with me, no matter where in the world you are!
Each webinar will be a web-based seminar, ranging anywhere from 30 minutes to 1 hour in length and cover an important topic relevant to self-protection or personal development training.
The next f.ree webinars scheduled are:
"Awareness as the Key to Effective Self-Protection: What to be Aware of"
April 6th at 8:30pm EST & April 7th at 10pm EST
and...
"Living and Thinking Like a Warrior: Your Life Purpose" April 13th at 8pm EST & April 14th at 10pm EST
Each event will be "broadcast" at a different time over two days to make it easier for as many people to participate as possible.
Go to the registration form on-site to register. During registration, you'll be able to list up to three questions that you'd like to have answered about these topics during the actual event. Take advantage of this opportunity to get what you need.
Again, these events are fre.e to WCI members and Newsletter Subscribers. If you know of someone who wants to participate, or want to post the events in forums that you regularly visit to let others know about them - go ahead and let people know. The more the merrier. However, ONLY registered subscribers will be given an access password to participate.
These events will be recorded and re-released as training products in the future. This is your chance to get the information first-hand, and at no cost.
So, just click on this link to be taken to the registration page:
http://www.warrior-concepts-online.com/ninja-training-online-registration.html
Then, you'll receive a confirmation email containing any relevant materials needed and your access password, etc. a few days before the event.
---
It's Almost Time!
Are you registered for this year's...
Spring Ninja Training Camp
June 2nd - 4th, 2006.
Join me and several other senior black belt instructors for a weekend of intense training...
Ninja-Style!
You just can't get a better training deal than a WCI Ninja Training Camp. Just look at all you get...
18 hours of training (valued at over $450 alone!)

Lodging in spaceous cabins (valued at $75)

5 Delicious home-cooked meals by the facilities staff (valued at $50)

A commemorative Camp T-shirt (valued at $20)
You get a complete seminar package, including lodging AND meals, with senior black belt instructors in the art of Ninjutsu - people who know what it takes to protect yourself from a dangerous attacker and empower your life for success.
A $595 value for only $199!
AND...
There are no rank requirements (That means Ninja Camp is open to everyone regardless of belt rank, experience, or prior martial arts experience. Everyone, from beginners to advanced black belts, will get something from this powerful weekend that will literally accellerate your training!)

An Excellent 1st Experience for New Students (What better way to explore the realm of the Ninja's "martial arts of winning" than to immerse yourself into a weekend of training in topics that normally takes years to get to for the average student. You will literally do MORE in one weekend than most students experience in two or three years of regular class training!)

Expand Your Network of Friends (For many students, our annual camps are the preferred way to stay in-touch with those training partners that are spread out across the globe. The friendships you develop in this art are deeper and more-connected than most that you will ever experience!)

Direct Training Under the Guidance of Shidoshi Miller (For many, the WCI Annual Ninja Training Camps are the vehicle by which they can train directly with Shidoshi Miller. Camp provides a means for serious students to apply for and have the Shidoshi as their personal teacher!)
Camp Special!
This Week Only!
Remember: You're already getting a training experience valued at almost $600 for just under $200. Register by Friday, April 7th, 2006, and save another $50!
Use one of the buttons below to register through our secure PayPal server:
To Pay-in-Full
Not Sure Yet?
No problem...
You can get Full details and a downloadable flyer from the Ninja Camp information page at: http://www.warrior-concepts-online.com/ninja-camps.html
The PayPal links are NOW ACTIVE so you can register right from the web site. Or, if you prefer to register for this intense weekend of training in the ways and skills of the Ninja Warrior by phone, simply call the Academy at (570) 988-2228 with your card information.
Remember...
In addition to all of the great stuff to be had and do at camp, the 1st 20 students registered will also receive a FREE copy of the Camp video! (Another $40 value!)
---
Also mark your calendars as...
Fall Ninja Camp is scheduled for November 3rd - 5th, 2006. Want to come for half-price? Regi.ster now and save $100!
Go to the camp page using the above link and click on the appropriate PayPal button to register.


---
Administrative Note...
We have identified a serious error on the main website. It seems that the code for reciprical links back to our home page from guest sites has a misspelling.
So...
If you have a website where you have posted a link to the WCI main page using the reciprical link code on the "links" page, please add the letter "S" to the name "Warrior Concept(s)" on your page.
For those who do NOT have a webpage with our link...
Even if you don't have a link, please check with the other sites that you regularly frequent. If they have a link to our site from there, please check to make sure that the link does, indeed, take you to the WCI homepage.
And...If the site does not have a link to us, either suggest it to them for inclusion or send me a note about the page via the contact form at:
http://www.warrior-concepts-online.com/contact-longdistance.html
Thank You!
---
One Final Reminder...
The WCI Forums are up and running! If you haven't activated your membership, do it now. The Forums are another great way to stay in-touch and get even more great information about training.
Get your fr.ee memebership to the WCI Forums by clicking on this link:
http://warriorconcepts.forumco.com
Well, I think that's it for now.

If you haven't already done so, remember to register for the f.ree Webinars this month. If you miss them, you can always get the recording. But...

...you can't get the benefit of being able to participate directly and influence the content of this powerful new training opportunity!

Until Next Time!

Wishing you Peace, Happiness, and Safety...


Shidoshi Jeffrey M. Miller
Founder & Director
Warrior Concepts International
Self-Protection & Personal Development
362 Market Street
Sunbury, Pa. 17801
USA

(570) 988-2228

"Master Your Self - Master Your Life!"


---



Do you have something of interest? A comment? Suggestion?

Drop me a line using this link. Please remember to stay focused on one point and, if your comment is NOT for general publication, you MUST state that in your message. Otherwise, all correspondence with me will be considered free for use in whatever way I may deem appropriate for public use.

MailBag Submission to J. M. Miller