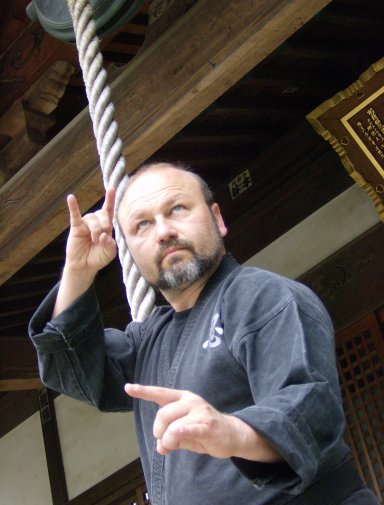 This free Ninjutsu Combatives online training class with Bujinkan Shidoshi Jeffrey M. Miller will give your Ninpo-taijutsu
self-defense training
a serious burst forward.

But... only if you want to really be able to defend yourself against some of the most difficult attackers you'll ever have to beat!

If you're ready for a serious wake-up call, on a serious training topic that most martial arts and self-defense students and teachers are ignorant to, then you'll definitely want to get in on this special...

"Ninjutsu Self-Defense Combatives"
Tele-Seminar class


...and learn what you should be doing in your training to be able to be prepared for - and DEFEAT - a trained MMA / UFC fighter, street-hardened gang-banger, or other attacker who's hyped up on drugs or has a high tolerance to pain!
Register now for this free online training event. During this live teleseminar, Shidoshi Miller will be opening the doors for a peek inside the world of real ninjutsu self-defense combatives training - the kind of training that made him give up everything else to train in Bujinkan Ninjutsu in 1980!
Join the Shidoshi for a very deep-level and critical exploration into why the training that most people are doing...
WILL NOT WORK
...against a trained MMA / UFC Fighter, experienced and street-tough gang-banger, an attacker who's under the influence of certain drugs, or the enraged attacker who has a high tolerance to pain!
Shidoshi Miller will be covering the following topics:
a look inside a real attack situation
how to overcome your attacker's advantage (and why many students may NEVER be able to), and...
Training ideas, exercises, and drills that will help to prepare you for dealing with, and defending yourself against, a super-aggressive and highly-determined attacker!
As always, to insure that you get a chance to participate, and to get any questions answered personally by Shidoshi Miller - who is one of only a handful of master-teachers with real-world experience at using this art against precisely the kinds of attackers we're talking about here...
...this event is being limited to the first 30 students who register for this critical training. So, you'll want to sign-in up to 15 minutes early to make sure that you get one of the live seats.
The Shidoshi isn't sure at this point if he's going to be offering a recording of this important call to anyone other than his "Inner Circle" Platinum coaching clients. So, do yourself a favor if this is the kind of training that you're looking for, serious about, and focused on getting for yourself...
BE ON THIS CALL!
(NOT: If the Shidoshi does decide to offer a recording of this training call... you MUST be registered for the event to receive a copy of the recording!)
What Else Will You Be Learning?
During this powerful training opportunity, you will also have the opportunity to ask up to 3 questions about anything that is challenging you in your training and progress. And, you will get Shidoshi Miller's honest answer, based on his three (plus)decades of study, insight, and experience in applying these lessons... against real attackers... on the street, and on the job as a police officer, undercover investigator, and bodyguard.
And, he will also tell you about some new training opportunities that are just around the corner, and a special discount that you can get for yourself - just for being on this call.
So, if you want a chance to work with Shidoshi Miller personally and learn some serious, life-saving strategies for dealing with some of the most brutal assailants that you could ever face - if you want to learn why most practitioners of the martial and self-defense arts are totally unprepared for the kind of animal-like aggression and skills that are needed to survive a real, life-and-limb kind of attack, then you want to be on this call!
To Register: Just fill in the simple form below with your REAL name and primary email address (if you don't, you won't receive the event information). That's all it takes to gain instant access to this limited, closed-door event with Shidoshi Miller. Remember - there may not be a recording of this training made available after the event. So, if you want in on this...
REGISTER NOW!
This Event is Over!
Unfortunately, you missed the registration deadline window
to get this powerful training from Shidoshi Miller. But......all is not lost!

Make sure that you're subscribed to Shidoshi Miller's online ninjutsu training newsletter to get information about when the next training is being offered. Also, as a subscriber you will receive several free lessons, training articles, special, free, bonus reports and more!

Subscribe by scrolling back up and using the form on the right side of this page.
---
I HATE Spam! So, you can be safe in knowing that I will never sell, trade, or give away your information for any reason.