Learn Ninjutsu - Real-World
Self-Defense & Practical Martial Arts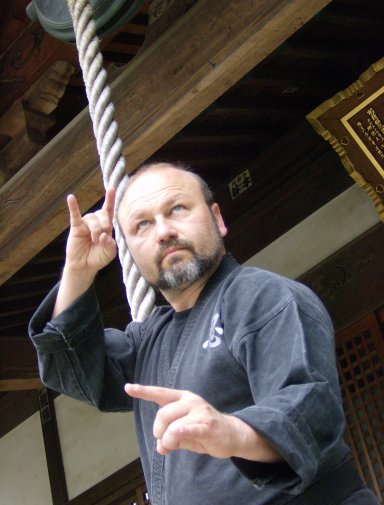 Get Your Free
Ninja Training or Self Defense eBook Now!
--->
Shidoshi Jeffrey Miller is an internationally-recognized self-protection expert, author, and corporate trainer who has dedicated the last 35 years of his life to helping tens of thousands to become more safe and secure in today's often dangerous world!



How Can He Help You?
Scroll down to choose the topic which best suits your individual needs and interests...
Master the Ninja Arts
Learn Ninjutsu & true Budo
Master the sword, staff, etc.
Become a Ninjutsu teacher
Live & think like a warrior
Wilderness survival skills
Transform yourself!
>> More Info
Register Now for these
Upcoming Ninjutsu Training Events

Real-world Self-Defense
Street survival secrets
Defeat larger assailants
Defensive combat handgun
Weapon defense secrets
Become an expert yourself
Control any situation
>> More Info
Register Now for these
Upcoming Self Defense Training Events

Corporate Training Programs
Workplace violence survival
Improve corporate security
Warrior-based leadership principles for executives and managers
Special programs for teachers & medical professionals
Employee empowerment & motivation
Assault avoidance, attack evasion & escaping danger
>> More Info
Academy Training & Seminars
Become an Uchi-deshi "Live-in student"
Become a Black Belt!
Martial arts for kids
Tailor the training to fit your goals
Fun activities like summer youth camps, birthday parties, and more
Special trips to Chinatown, Asian arts museums, & even Japan!
Special seminars, Ninja Camps, and more!
>> More Info
If you're serious about getting this area of your life handled, I invite you to contact me with any questions or feedback - to inquire about my programs or to offer a suggestion for training you'd like to see offered.
I can be reached at warriorc@warrior-concepts-online.com
Or, you can call me directly at my office at (570) 884-1118 to see if you qualify for one of my programs.


---
Adv. Self-Defense Strategy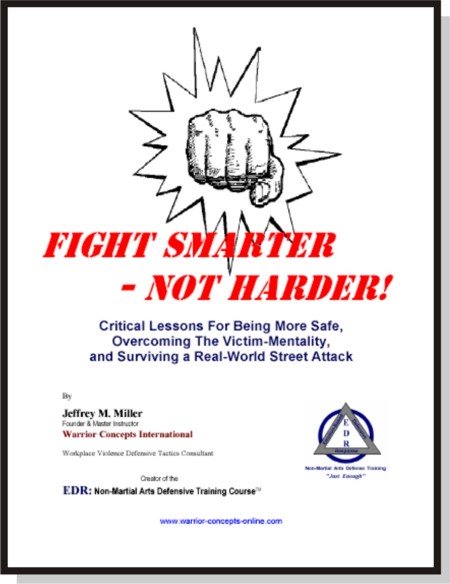 ---
Click on the eBook that's
right for you!
---
From Students...
---
"Mr. Miller's approach to self protection and occupational/work-place safety is both thorough and effective. Drawing on over two decades of martial arts, military, police and protection experience, he is able to distill the most useful aspects of self protection from a larger body of knowledge and package and present them in a way that makes them accessible to, and effective for, average people without the need for years of training. Mr. Miller teaches effective tactics for dealing with all stages of a developing situation, but his brains-over-brawn approach emphasizes the use of awareness and strategy to help avoid the need for physical confrontation. His methods are highly effective. Several of my students and I attend his training events at every possible opportunity."
John Healy, Personal Dev. Coach
Kingston, Ontario, Canada
---
"A self protection situation is so much more than actual combat. In fact, Jeff Miller has taught me that self protection does not necessarily even involve a confrontational situation. It is about learning who I am…how I relate to myself, and how I present myself to others. It is about being the best that I can be at any moment in time, in any situation, with anyone or alone, at work or in leisure. It is about recognizing and overcoming my own internal obstacles and external distractions. It's about knowing my ideals and living up to them in all areas of life to benefit myself, my business, and all others. Through all of this, I may actually avoid conflict. This is where self defense starts, long before the threatening situation occurs.
A very important part of my growth process has been knowing that my instructor teaches from more than a book, but from experience. Jeff Miller lives what he teaches. I know it's real. It works for him, and it works for me. I've been training under his supervision since 1991.
I am not naturally coordinated or physically strong. I would have been an easy target for an attacker-physically, mentally, or emotionally. Mr. Miller has been one of the few people that could talk to me in very simple terms so that I get the message without feeling belittled. Rather, I feel empowered because I take the steps necessary to become the person I want to be, and I know I have his support-for life. Through Mr. Miller, I have learned to rely on my strengths while improving other areas. I don't have to be something I'm not in order to be successful. I am confident that I can defend myself appropriately in any given situation.
Working in the long term care environment, I deal frequently with confused seniors. Some staff in this setting may feel the need to either take combative behavior or retaliate, hurting the disoriented senior. I have learned ways to prevent that person from hurting anyone, while not causing any harm myself.
My training means so much to me that I also became a teacher. Currently I focus on taking this great way of life to senior citizens. If even one person is able to overcome a difficult situation as the result of sharing this wonderful way of life, I know my mission has been accomplished."
Kimberly S. Noel President & CEO Spectrum Senior Consultants, Inc.
---
Copyright 2006 - 2016, Warrior Concepts International, Inc. & Jeffrey M. Miller
2346 US Rts 11 & 15, Selinsgrove, Pennsylvania 17870 USA All Rights Reserved.
---
Articles by Shidoshi Jeffrey Miller SPS, DTI
---
Self defense training is as necessary as learning how to swim. In today's world of random violence, school bullying, and global terrorism, we can no longer believe that self defense training...
Would you like to learn ninjutsu and the authentic Japanese martial arts of the warrior? Let Warrior Concepts and Shidoshi Jeffrey Miller...
The martial arts have more to offer than self-defense. Students learn life skills that far exceed most self-improvement and personal development programs. Adult life skills and child development...
Want to add an employee benefit that has the same effect as insurance while also enhancing productivity, confidence, and the like? Hiring a self defense consultant could be the best move your...
Get your martial arts and self-defense supplies, equipment, books, and videos from a name you can trust. This is the self-defense product page where you'll find...
The WCI online Newsletter is the perfect resource for serious students ONLY! Every issue contains hard-hitting, honest information about self-defense and the martial art of Bujinkan Ninjutsu.
Links to outside sources to help you get the most out of your martial arts and self-defense training. You'll find links to vendors, associations, and more.
Would you like more information about the programs at Warrior Concepts? If you live in the Sunbury, Selinsgrove, Lewisburg, Shamokin or surrounding areas of Pennsylvania, use this convenient form.
This new Kubotan book by self-defense expert, Jeffrey M. Miller, provides an excellent foundation for using the powerful Self-defense keychain weapon for personal protection. The Kubotan book...
Self-defense videos from Warrior Concepts founder and Master Instructor Jeffrey M. Miller are the perfect way for you to get the training you need, regardless of where you live. Self-defense videos..
Here's a list of 10 tips for anyone who wants to make themselves more safe and secure, regardless of whether they're traveling or staying at home.
This article by self-protection expert Jeffrey M. Miller shows how adding simple, but effective training to your workplace violence program actually empowers employees and minimizes the threat of such
Be a part of WCI's Fall Ninja Camp 2019! Authentic Bujinkan Ninjutsu training for the modern warrior...
Hosting an in-house training event with Shidoshi Jeffrey M. Miller can be the best thing you could ever do. Each event is designed to inform, educate, and empower.
What is the role of your emotions in surviving a street self-defense attack?
Far too many martial arts students are attempting to learn self-defense without knowing what they will need to be able to handle a real-world situation. They are attempting to...
In the world of women's self-defense training, there are two generally accepted "schools" of thought. Unfortunately, both take extreme viewpoints and are usually founded on nothing more than...
Your best choice for Sunbury martial arts training. Warrior Concepts' Black Belt Mastery Academy is the premier self-defense & personal development school in the central susquehanna valley!
Use this online form to register now for this year's Daikomyo-sai Ninja training seminar!
Are you looking for proven and effective workplace violence training for your company? "The Guardian" is the workplace violence newsletter from international self defense expert, Jeffrey M. Miller...
This is the login page for Warrior Concepts students. Get additional information to make your training the best that it can be!
Want to know the secret to living a life of purpose, a live of your own design - want to discover your life purpose...
Enroll now! This ninja mind course is part of a series of special online ninja training programs designed and taught by Bujinkan master-teacher, Shidoshi Jeffrey M. Miller!
Learn ninjutsu in this online ninja training program with a true master of the art -- anywhere in the world!
Are you looking for ninja training online? WCI's Virtual Dojo could be what you've been looking for to learn ninjutsu.
Join Shidoshi Miller and others on our yearly training trip to Japan - the homeland of the ancient Ninja families of Iga and Koga! Register to receive information and details about this year's trip!
Register now and Master the Weapons of the Ninja and Samurai in this online weapons training program from WCI and Shidoshi Jeffrey M. Miller!!
Free ebooks, free videos, and free e-courses from international self defense expert, Jeffrey M. Miller SPS, DTI. Defend yourself and learn ninjutsu from Shidoshi Jeffrey Miller.
Learn ninjutsu and the weapons of the Ninja in this powerful 10-week online weapons training course which features the rokushaku-bo (6' long staff weapon)!
Parents! Get this new free ebook and really teach your child how to deal with a bully!
Register now to be a part of Shidoshi Miller's Spring ninjutsu Training Tour 2011! Train with Bujinkan Dojo Grandmaster, Masaaki Hatsumi IN JAPAN!
Looking for a proven beginner's self-defense program? Ninpo-Taijutsu: Foundations of Self-Defense Mastery Module1
Register now for this ninjutsu training intensive in Shidoshi Miller's Musha Shugyo Intensive!
ninjutsu training success
Subscribe to Shidoshi Miller's online ninjutsu training newsletter and learn ninjutsu the way it was originally taught when it was brought to the Western-world!
Martial arts instructor training teleseminar. Are you teaching "TO" your students are to yourself. Good martial arts instructors teach their art, GREAT teachers empower their students...
Be the first to have access to Shidoshi Miller's Advanced Martial Arts Instructor Training Program! Regardless of whether you teach ninjutsu, karate, or any other form of martial arts or self-defense
What does it take to master ninpo taijutsu, the self-defense combat system of the Ninja.
Order your limited-edition WCI traning T-shirt now!
Learn how to host a successful martial arts or sel-defense seminar. Earn credibility, make extra money... become the expert in your area!