---
Real-World Self-Defense for Women... Get the Facts or
Take Your Chances!
That's Fact, Not Fantasy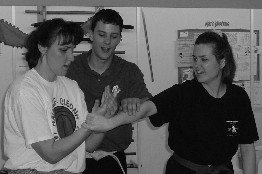 Are you...
...looking for effective self defense for women?
Perhaps you're a parent looking to make sure that your daughter can protect herself as she grows up and moves out into the world.

Unfortunately, finding a competent, reliable, and professional martial arts academy that specializes in teaching self defense for women and girls, and lead by an internationally-recognized self-defense expert, is not an easy task.
Add to this the historically-proven fact that most conventional martial arts being taught today were not originally designed for modern self-defense, let alone self defense for women, and the problem gets worse.

RELATED TOPICS:
FREE REPORTS, etc:
TRAINING OPPORTUNITIES: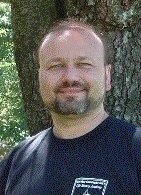 ---
Self Defense For Women at Warrior Concepts International
Women's self defense issues are constantly in the news and a 'hot' topic for conversations. It seems that everyone from police officers to karate instructors has his or her own philosophy and theories about the how's and why's of self defense for women and girls.
The truth is, though, that many of the same techniques and tactics taught to men for self-protection simply will not work for a woman.
Why?
... because attacks perpetrated on women have, at their foundation, certain inherent problems, issues, and conditions that are often very different for men who find themselves in defensive situations. Women have to deal with things that, quite frankly, men don't.
Click to get more information about self defense for women and issues specifically related to womens self-defense


This is not a women's lib issue or anything of the sort. It's simply the way it is.
What kind of things?
Well, for starters, physiologically speaking, there is a 7-to-3 strength ratio between male and female bodies. That means that if you were to stand a man and a woman, having the same height, weight, and build, side-by-side, and all things considered (health, fitness, etc.)...
... the man would still be two-and-a-half times stronger than the woman!
This is not theory or one person's belief over those of others. It's sciencific fact.
Next, women are more likely to be slapped or grabbed and pinned rather than punched or kicked. For men, it's just the opposite.
The good news is that more and more women are being drawn to the life-enhancing benefits of the martial arts. The not-so-good news is that...
There is a shortage of:
And an over-abundance of...
...so-called self-defense experts who are of the tough-guy, fighter type or the "This is Reality - Deal With it" macho-type.
These people, by their very nature are the "slugger-types" who rely and depend on speed, strength and size to win. Since self defense situations usually involve a bigger, faster, stronger attacker victimizing a smaller, less-prepared victim...
... these instructors are not suited, knowledgeable, or able to teach the necessary lessons needed for effective self defense for women.

---
LOOK...
You're smart. You want the facts, not some false sense of confidence that ultimately proves to be your downfall when you need it the most.
Use this form to find out how you can book Shidoshi Miller as a presenter for your company or organization's next event. Instead of getting a cheerleader telling you what they "think" will work, you'll get a trained master professional who has "been there" and who KNOWS exactly what you need to do if you and your friends REALLY want to survive a brutal attack.

---
The Reality-Based Martial Art of Ninjutsu
The training programs at Warrior Concepts International were developed from the reality-based martial art known as Ninjutsu (pronounced "neen-joo-tsoo"), and are perfectly suited for anyone looking for effective self defense for women.
Click here for more information about the art of Ninjutsu
It is perfectly suited for the smaller, disadvantaged defender. And since women are most often attacked by at least one male attacker, the techniques that she employs for her defense should be suited to the problem at-hand.
---
Best Selling Self-Defense Programs...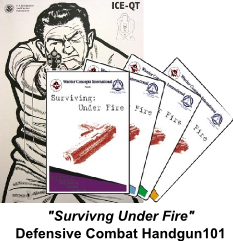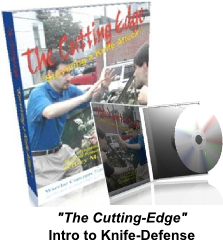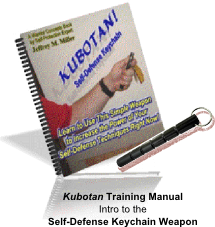 ---
Women's Self-Defense Program
First and foremost, you must ask for and thoroughly check out the instructor's credentials. This is true regardless of whether you're...
an Adult who wants to be able to handle herself, or...
A Parent looking for a self-defense program for your child
This is a very important point, because, like few other things in your life...
... your life could depend on your making the right choice.
The world is full of people with barely enough knowledge, skill and common sense to get by. You know it because you probably see, interact with, and maybe even work with some of them every day!
This is not to say that a karate instructor with a xxth degree black belt cannot defend him or herself. But, who would you trust your life to...
... a person who has practiced their skills for use in a game for the purpose of earning a belt or trophy, or...
... someone who has direct life experience in actually surviving real attacks from real assailants and had to make sure that what they were learning would work to save their own life?
We both know the answer to that, yes?


---
Other Considerations for Girls and Women's Self-Defense
The following is a partial list of some of the other major differences between self defense for women and men.
Cultural Influences - girls have been taught from a very early age that fighting was not "lady-like."

Oh my god! What would people think!

Situational Self-Defense - rape and sexual assault are two of the biggest differences between the genders when it comes to suriviving an attack.

The fact that men are usually dealing with the more obvious situations (muggings and competitive ("oh-yeah! let's go!"-type fighting come to mind). While women, and more and more young girls, are required to deal with subtle tactics like date-rape or being ambushed by a group.

Add to this the strength differential discussed earlier, and you have a very different situation, requiring very different self-protection tactics.

Incorrect Information - I believe that the majority of teachers and instructors mean well. They aren't out to con you. It's just that...

... they have no real experience to go on so they do what everyone does when they don't know any better...

... they make assumptions that seem logical and rational within their own frame of reference.

The problem is that we're talking about self-protection here...

... self defense for women...

... girls self-defense. Not...

... vegetable soup. Where, if you make a mistake, you can just dump the pot and start over.

A mistake in a women's self-defense situation, in any situation requiring defense against an attack, could be very, very costly indeed.




---




A Call to Action

If you live in the Sunbury area of Pennsylvania and you're looking for reality-based self defense for women or self-defense for girls, give us a call.

After all, it's better to be prepared and never have to use your skills than to find yourself in a terrible, unthinkable situation - completely unprepared and thinking...

... I should have taken classes when I had the chance.

If you'd like to discuss this topic further - if you have questions about the different martial arts available - or you want to take advantage of a complimentary class to see if the women's self-defense program at Warrior Concepts is right for you...

... give us a call at (570) 884-1118. Or, stop in at the academy across from Red Robin, on "the Strip" in Selinsgrov, and talk to a staff member about getting started on the path to a more confident, secure, and prepared future.

And, while your here, talk to one of our female students to find out what keeps her coming back to train.

If you're from outside our local area... ...find out how you can bring me to you by using this special request form.

Either way...

You'll be glad you did!

Jeffrey M. Miller, Shidoshi
Founder and Director
Warrior Concepts International
Self-Protection & Personal Development



---





More Information...





Emotion-Based Self defense for women and men that uses your own natural defensive response to win

In most cases, you can escape or completely avoid a dangerous situation just by following the lessons on this powerful self defense video...

Self-Defense for Women should be based on street fighting tactics - not sport karate

Susan's Story: Read how a rape victim went on a crusade to make sure every woman was learning about rape defense!